Taken From my posts in this continuously updating thread


Wheels

All panthers use a 5x4.5" bolt pattern.

92-02:
All -97s require use a minimum of 15" wheels. All 98+ require use a minimum of 16" wheel.

-There have been mentions of people grinding down their 98-02 fronts calipers to allow use of 15" wheels. I do not recommend this.
All 98+ received 16" wheels standard, 17" if it was a CV Sport.

-97s received 15" on base models and 16" on 93+ HPPs
The 16" rims are 7" in width, the 15" wheels are 6.5" in width however I have heard the 'Police' 15" steel wheels are 7"
The offset for all -02 is ~6mm (depending on rim model), though a 0mm offset can be used without any trouble.
03+
All came with at least 16" wheels, 17" for LX Sport and 18" for Marauders. All can use the 16" rims, however.
The width is again 7", Though the Marauder's are 8" to run larger width tires
The offset is high, ~50mm iirc *Though anything in the ~40-~50mm range is acceptable.
Other Wheel info:
05+ / s197 Mustang, all 03+ panther, and 2002-2005 Explorer wheels are a direct fit for 03+ panthers.

**Note: There is a clearance issue between the wheel and front calipers when using *some* '05+ Mustang wheels on '03+ panthers. This appears to be limited to the polished 5 spoke "Bullitt" Factory Ford wheels. If you run into this problem, slip-on style 1/4" spacers will space the wheel far enough to gain adequate clearance.

s197 Mustang / 03+ panther / 2002-2005 Explorer wheels will fit -02 panthers with the use wheel adapters, measuring at least ~30mm/1.25"+.

-Hub centric adapters recommended.
-1.5" preffered

94-04 sn95/5x4.5" FACTORY mustang wheels can be used on -02 panthers, provided a wheel adapter/spacer measuring at ~5/16"+ is used to compensate for increased offset.

-Larger spacers will further bring wheels out to fender well lips, 5/16" is minimum for ball joint clearance, 20mm+ preferred.
-Hub centric adapters recommended (if applicable)
-Increased rim width will effect offset and minimum spacer size calculation.

s95 (94-04)/5x4.5" Mustang wheels have too low of an offset for 03+ panthers, the wheels may protrude past the wheel openings.
For aero owner's looking for better handling, -02 panther 16" (and 17") wheels are a direct fit, size 225/60/16 tires are closest to the diameter of your original 15" wheel/tire combo.
Kenny Brown panthers used 18x8" Ronal R-7 wheels, using 245/45/18 tires
2006+ CVPIs use 17" wheels. These wheels are a direct swap on all 2003+ panthers. -They can be used on -02 provided hub centric adapters are used on all 4 wheels.
-97 Steel wheels come in two varieties. The standard and the 'Police' wheels which have raised portions/bumps to secure the 'dog-dish' style hubcaps.
DCX non-AWD LX Platform wheels can be used on -02 panthers. The bolt pattern is slightly off (by .7mm, DCX using 5x115mm vs. our 5x114.3mm) , so vibration may be felt at higher speeds.

-Hub centric rings may be needed as well.
-Offset is ~18mm, so spacers are not required for use on -02s.
-These wheels will stick out too far to be used on 03+ panthers.
The aforementioned Ford wheel offerings (Mustang, Explorer, Panther, etc.) use the correct 70.6mm center bore.
Other notes:
Backspacing will all depend on the rim width chosen in relation to the offset.
The use of a wheel spacer or adapter puts more stress on the vehicle's lug nuts and wheel bearings
Eibach, H&R make high-quality wheel adapters
Aero panthers have a narrower track width (most noticeably the rear) than 98+. If wheel adapters/spacers are to be purchased an aero owner may want to go slightly larger than 98+ for more fender fill-out
Our cars use a 1/2"-20 RH Acorn style lug nut when you go to purchase chrome lugs for your spiffy new wheels
Factory lug torque spec is ~95ft-lbs
Many Ford factory wheels share the same size hub cover, thus Ford oval logo covers can be used in place of Cobra snakes, galloping 'stangs, Gods-heads and other designs not suiting for your vehicle.

-Various hub covers can be purchased from FRPP, eBay, etc.
-Member gDMJoe has a list of hub cover's with part numbers here: THread Link

Curiously, Ford recently started remaking the 2003-2004 Mercury Marauder wheels for use on the 2005+ Mustang as a 'Factory Custom' wheel offering. These wheels are for the most part identical, with the exception of a slight difference in the forging around the center cap area; though, the Marauder and all previously mentioned center caps should work fine.

HPP wheel variances:

There are three varieties of the 93-02 HPP wheels; 93-96; 97-98; and 99-02.



Pictured is one of my 93-96 HPP wheels
93-96 have a machine finish lip, 'unfenced' lug circle, and a painted center. Clear coated.
97-98 have a machine finish lip, 'fenced' / pentagonal border lug circle, and a painted center. Clear coated.
99-02 have a painted lip (a heavy fill-primer is/was used to fill the ridges), 'fenced' / pentagonal border lug circle, and painted center. Clear coated as well.
The 99-02 variety look somewhat dull, IMO.

LX Sport wheel variances:

After recieving a few emails about this, I think I should clarify.
THere are 01-02 LX Sport rims, and there are 03+ LX SPort rims
THe 03+ Sport rims have a very flat face, where as the -02 have a dish to them. I prefer the -02 wheels myself.
-02 owners should use 01-02 Sport rims, and 03+ owners should use 03+ Sport rims to have the correct offset.
01-02 Sport<>03+ Sport




How rim measurements work:
For those looking into aftermarket rims, keep in mind: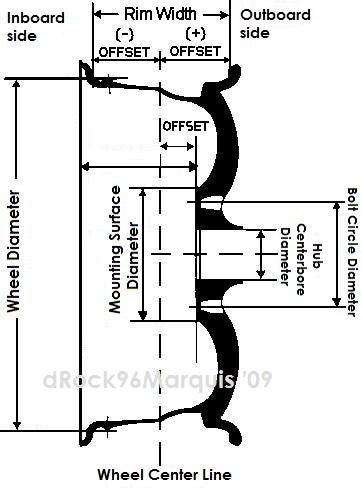 As you see, when calculating the minimum offset required, rim width must also be used. Keep this in mind if purchasing wider rims.

The closer to zero the offset is, the closer the wheel mounting surface is to the wheel center line. This also gives the wheel more 'dish'. Zero and below will have a noticeable dish. 0-10 mm is typical of a traditional RWD vehicle. Higher offsets, ~40mm+ are typical to FWD vehicles.

The higher the offset, the 'flatter' the wheel front will be. 03+ panthers use a very flat, high positive offset wheel. -02 use a low offset wheel

Make sure you don't overlook the centerbore specification, if the centerbore is too small the wheel will not slide over the hub lips used to keep the wheel concentric. If too large the wheel is no longer hubcentric which may cause vibration issues at high speeds.
Panther wheels use a 70.6mm center bore size to slide over the hub(s) for a hubcentric fit.
If you get aftermarket wheels, they must use this size to clear the hubs whillst retaining hubcentricity.
If the wheels have a center bore larger than 70.6mm, a hubcentric ring/shim should be used on each wheel to fill the gap and eliminate possible vibration issues.
If the center bore is smaller; one would either have to find a way of precisely machining the center bore larger; or select a different whel.
The aforementioned Ford wheel offerings (Mustang, Explorer, Panther, etc.) use 70.6mm center bore.


Tires:

Factory sizes:

| | |
| --- | --- |
| -97 15" wheels, non-CVPI | 215/70r/15 |
| -97 15" wheels, CVPI | 225/70r/15 |
| all years 16" wheels** | 225/60r/16 |
| 01+ LX Sport/SAP 17" wheels | 235/55r/17 |
| 03-04 Marauder 18" wheels | 235/50r/18-front 245/55r/18-back |
| 03+ Lincoln Town Car 17" wheels | 225/60r/17 |
| 06+ CVPIs w/ 17" wheels | 235/55r/17 |
| | |
| --- | --- |
| **98-02 Town Car Touring Sedans (16" wheels) | 235/60r/16 |
255/55/16 tires are a popular upgrade for those with 16" wheels
255/50/17 tires can be used on LX Sports, or 06+ CVPI, and they look awesome
Panthers have very large wheel well openings. Using a smaller overall height tire than stock may look goofy.
GoodYear RSAs are factory installed on CVPIs, reviews are mixed. Goodyear Triple Treads are highly recommended by many. With the wide variances in tires from brand to brand, it is hard to say which one is best. I recommend using http://www.tirerack.com and using their tire reviews to help base your decision.
Hubcaps:
Type 146 (p/n: F87Z-1130-DA) and 170 (p/n: F87Z-1130-GB) hub caps cover the lug circle and hub. They will work with both 15" and 16" wheels. They require the shoulder lug nuts

-p/n: F8AZ-1012-AA
-The lug nuts can also be purchased aftermarket for considerably less.

Full wheel covers are available for 15", 16" and 17" panther steel wheels in various styles. Including chrome lacy spokes, chrome radial spokes, slatted/vents, multi-spoke alloy simulation, etc.
Locking wheel covers, like those found on some civilian models, use a bracket which mounts to 3 of the 5 lug nuts behind the wheel cover. A specially keyed bolt is used to bolt the wheel cover to the bracket. The center emblem/ornament covers this bolt. These wheel covers will be the least likely to ever fall off.

-Example of a 15" locking radial spoke wheel cover: Click!

03+ 16" full wheel covers can be used on 98-02 16" steel wheels with slight Modification. There are two methods, zip ties: Thread Link! Or pipe couplings: Thread Link!

-You will need at least 12 (3 per wheel) of the special threaded lug nuts to use the pipe coupling method.

These are pricey from Ford, Napa sells them much cheaper: Click!!

Chrome trim rings are available for both 15" and 16" wheels
The old 'Dog-Dish' style center caps require the older style 15" police wheel with raised portions/bumps to hold the cap in place.
17" 2006+ CVPI full wheel covers will not fit 16" or smaller wheels.
---
Email me at [email protected]
Page last updated: 6-25-09